Four years ago today, the Hubs, Little Man and I woke up on a leisurely Saturday morning to go to breakfast at Panera Bread and then head over to the hospital for a siblings class for Little Man. I was ten days away from my due date to have my little Miss Priss. The weather was perfect, sunny and warm!
While still laying in bed I started having mild contractions. Nothing out of the ordinary as I had been contracting for a while. I got into the shower, got dressed, dressed my three year old Little Man and we headed to eat. While sitting at breakfast enjoying my regular "pregger favorite", a bagel with cream cheese and a coffee, the contractions became stronger and closer together. We were going to the hospital anyway, so I wasn't too worried!
Before I could even finish my wonderful breakfast (which would become Miss Priss' favorite as well) I was in more pain than I could stand. I called the doctor on call and was told to meet him at the hospital. No problem right? I was on my way there anyway. Now, you should know that when I have things planned, I don't like anything messing them up. So, we were going to do this siblings class for Little Man by golly I just need to get checked out first!
Once I arrived at the hospital I was checked out and told I was three centimeters dilated and that he wanted me to walk to get to five so I could be admitted. He didn't feel comfortable sending me home as he knew Miss Priss was on her way. So...my plans changed and Little Man went home with some family. I called my parents, who were celebrating their wedding anniversary, and told them to make their way into town...and we walked! We walked...and walked...and walked... While walking we saw the little kids in the siblings class that my Little Man was supposed to be in. We saw other mothers, fathers, sisters, brothers, nurses and doctors...over and over and over again. We walked in a huge circle around the birth place for two hours!
FINALLY...I was five centimeters and admitted. My parents had made it into town, but I told them that I had time so they should go grab some lunch or an early dinner and celebrate their special day. It was sometime in the afternoon at this point. The doctor came in and broke my water, I contracted for about fifteen to twenty minutes without meds making it to eight centimeters, had an epidural (you don't have to be a hero ladies...take the drugs!) and rested for about thirty minutes. After that, the doctor was back to check the progress...
From there everything was a whirlwind!! I was at 10!! It was time to do work son!! I quickly called my mom and told her to hurry to the hospital. The nurses came in in a furry...the doctor was suited up...the Hubs and I couldn't believe how fast everything was happening as Little Man took ALL DAY LONG!!!
The next thing I knew, I was looking at the most beautiful baby girl I had ever seen in my life!
On June 5, 2010 Gabriella Reese was born!
She was 7 lbs 11 oz and 20 inches long with a head full of hair and the biggest brown eyes you had ever seen! And another life of firsts began...
First Time Seeing Miss Priss
First Bottle
Going Home - Go Tigers!
First Easter
First Birthday
2 years old - Dress Up!
Easter #2
She posed for this pic herself...I can't make this stuff up
Halloween #2
Last night as a 2 year old!
Little Gymnast
Third Birthday Party
First Day of Preschool
First "REAL" haircut...eight inches donated to Locks of Love
Good Night 3 and Good Morning 4!
Happy 4th Birthday to my beautiful, smart, talkative, fashion loving, outgoing, full of attitude and hugs, ALL GIRL, social butterfly!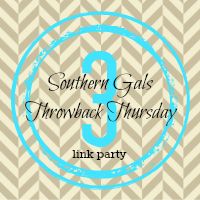 Linkup:
Lovely Ladies Linky,
The Hump Day Blog Hop,
Random Wednesday,
Lovely Thursdays
,
Little Friday Linkup
Whatever Goes Wednesday
ALSO, IT IS THE LAST DAY TO ENTER THE GIVEAWAY!! GO AHEAD AND GET YOUR ENTRIES IN FOR 3 HEADBANDS FROM KHLOE'S BOWS
a Rafflecopter giveaway