Who hates talking bills, finances and money as much as I do? Go ahead, raise your hand, raise it high no one is looking!! Well I wanted to show you a few ways that I have found to organized my finances, makeing my bill paying days a little easier and my budget control a little more fun. Also, some ways I have found to save money! Who doesn't like saving money?
Most everyone has heard of Dave Ramsey and his Total Money Makeover and Financial Peace University. I have not purchased or read his books, but I have read tons of testimonials and ideas about how people have made this work for them. My method has some of the same similar principles. If you have not already, I would suggest at least reading through his Seven Baby Steps. This is what I did and was able to get a base idea of what it was all about.
First I want to show you how I organize my bills. When I was looking for a method to do this, I looked to the one and only...Pinterest! I must confess I look there for everything! I found some different methods, but one that stuck out to me was an Excel spreadsheet that I found in a blog (hence the reason I want to share). I can't remember the name of the blog or even where I pinned the idea, but I will show you how it turned out for me.
Here is my budget spreadsheet: (Note: I have taken out amounts and replaced them with $$. Once I have amounts in these sections the totals calculate for me)
On the first page of the spreadsheet are my monthly bills. The first thing I did to create this was list all of my monthly bills out on the spread sheet by the date they were due. This included the ones that were auto paid and the ones that I sent in payment for. In one column is the due date, the next column is the provider name, then the amount owed and then a space where I could mark paid or any necessary notes.
The Hubs and I get paid bimonthly, so I made sure to split the bills according to what was due the first of the month (1st-15th) and the last of the month (16th-31st). Once they were all listed, in order and split between the first and last of the month, I had the spreadsheet calculate the totals for both the first and last of the month and then a monthly total. This helped me to see how much of our bimonthly and monthly income was going toward bills. Once I subtracted the bimonthly bills from our bimonthly income I was able to see how much we had left for spending.
At the very bottom of the spreadsheet I put bills that only come out every quarter or once a year. Beside the provider I put the amount and the months that these are due. Once they are paid for that month I place a strikethrough in them. This helps me to not be caught off guard with bills that are not reoccurring monthly.
I then listed all of the things we spent money on every month. This is where the Cash Envelope system comes into play. Your spending list will most likely be different than mine based on what you have going on in your life, but feel free to use some of my categories if you want. Our list included: Groceries, Gas, Haircuts, Eat Out, Fun and Papers. I will explain these categories below.
GROCERIES: This is pretty self explanatory, but for my family of four I budgeted $100 per week. I am usually able to keep this budget with my couponing skills. Ha! We do not have enough cash flow to pull out the whole $400 at the beginning of the month, so we pull $200 at the first and last of the month out for groceries. This includes cleaning supplies, paper goods and dog food as well as groceries.
GAS: This is also self explanatory. The same cash flow problem happens here as well so we pull half out first and half out last. Based on your vehicles fuel economy this amount may go up or down. I just looked back through my check ledger to get an estimate of how much we spent each month on gas and budgeted that here. I do not include gas used on vacations or out of town weekends in this budget. That is budgeted separately and saved ahead of time.
HAIRCUTS: Here is where I budget once monthly for the Hubs, Little Man, the pups and myself to get our hair cut and well...mine gets colored too! It is nice to know we have the cash for this when our appointment pops up. Our hair used to wait until we had enough funds to pay for it...can you say SCRUFFY FAMILY?!
EAT OUT: This category is the hardest for my family. We are always on the go, so grabbing something out is usually the way to go. I try to have a menu plan to cut this budget. We allot an amount here and once it is gone we are done. We do not allow ourselves to eat out once the funds are gone from this budget.
FUN: Fun money is the budget the Hubs and I give ourselves each month for things we would like to purchase for ourselves, each other or the Littles. This covers anything from shoes, crafts, tools, toys, ice cream or date nights. Again, once these funds are gone, they are gone until next month. This makes us very conscious of what we purchase.
PAPERS: I put $20 per month aside to purchase the Sunday paper each week. This helps with my couponing. You would think $20 would be a trivial amount to put in a cash envelope, but the idea is to deplete the funds in your debit account (with the exception of what you put in savings after all cash envelopes are taken care of) so you are not tempted to use your card.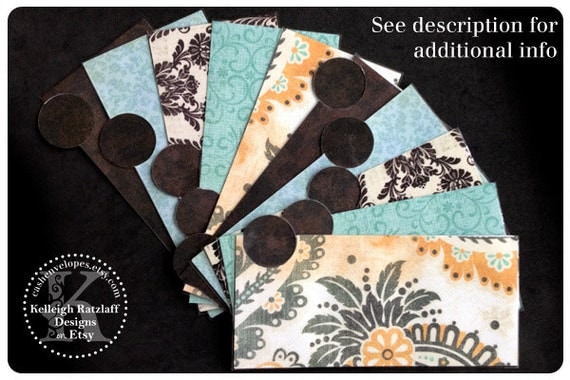 When looking for the perfect Cash Envelopes to use I found these on Etsy. They are cute, durable and customizable. They also fit right into my wallet I already had. Even though you will be carrying cash, you will still need your ID, insurance card and other cards like this, so something that fits into a wallet is great! I have had mine for two years and they are still going strong!
The second and third pages of my spreadsheet are for my Savings Account. My bank account has one checking and two savings accounts. The first savings account houses the money we use for our "mini accounts" such as vacation, home repairs, etc. The second account is our "emergency fund" that is mentioned in Dave Ramsey's Seven Baby Steps. The fourth and final page of my spreadsheet is my "debt snowball" page. This is where I keep track of my existing debt that I am working to pay off. I will post more in depth on these pages in a later post!
I hope you all can use some of the tips and budgeting ideas that I have shown to help save a little sanity and money in your lives. It really does work! Using cash makes you accountable for every penny and thus saves you $$$$. Do you use the cash system? Have you read Dave Ramsey's books? What are some of your budget tricks?
Linkup: Lovely Ladies Linky, Whatever goes Wednesday, The Hump Day Blog Hop,
Random Wednesday, Monday Morning Madness, Anything Goes Linky